By the end of April 2019, Government's Consolidated Fund registered a deficit of €144 million
Between January and April 2019, recurrent revenue rose by €158.1 million and amounted to €1,387.7 million. This represented a 12.9% increase from the €1,229.6 million reported in revenue during the corresponding period in 2018. The increase was primarily the result of a €75.8 million rise in Income Tax. Further increases were also registered under Grants (€29.9 million), Value Added Tax (€28.3 million), Social Security (€28.1 million), Customs and Excise Duties (€4.1 million).
Total expenditure by the end of April 2019 stood at €1,531.7 million, a 15.6% increase from the corresponding period in 2018.
Recurrent expenditure stood at €1,321.1 million, €163.6 million higher than the corresponding amount reported by the end of April 2018. The main contributor to this increase was a €100.6 million rise reported under Programmes and Initiatives. The main developments in the Programmes and Initiatives category involved added outlays due to EU own resources (€25.6 million), tax relief measures (€11.4 million), extension of school transport network (€11.1 million), state contribution (€10.2 million that also features as revenue), social security benefits (€8.9 million), cancer treatment (€6.0 million), church schools (€4.2 million), landscaping - Malta (€4.0 million), medicines and surgical materials (€3.3 million), residential care in private homes (€3.2 million), solid waste management strategy, public service obligation - public transport, feed in tariff (all rose by €2.5 million), child care for all (€2.3 million) and health concession agreements (€2.1 million).
Government's capital expenditure registered an increase of €51.2 million from the same period last year and amounted to €144.4 million. The rise in outlay was due to added expenditure reported on road construction and improvements (€18.8 million), investment incentives (€14.6 million), EU Internal Security Fund - Borders and Visa (€10.9 million) and EU structural funds 2014-2020 (€7.9 million).
During April 2019, Central Government Debt stood at €5,503 million, a €121.6 million rise from the corresponding month last year. This was primarily the result of increases reported under the 62+ Malta Government Savings Bond (€192.2 million) and Treasury Bills (€28.8 million).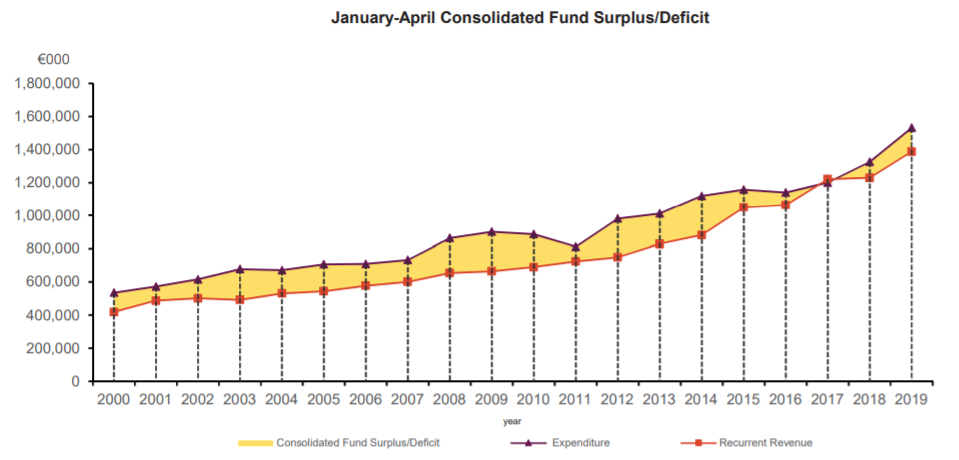 Increase in Inbound Tourism
Inbound tourist trips for the first four months of 2019 amounted to 667,905, an increase of 3.1% over the same period in 2018. Total nights spent by inbound tourists went up by 3.7 %, surpassing 4.3 million nights. Total tourism expenditure was estimated at €444.5 million, 3.1% higher than that recorded for 2018. Total expenditure per capita stood at €666, at par with the same period of 2018.
It is interesting to note that all the increase in nights spent by inbound tourists is being experienced by 'Other rented' accommodations and not Hotels, as can be seen below.

The per capita expenditure per tourist below indicates that while  the average spend in accommodation is going down (mainly due to the shift to non-Hotel accommodation) this in turn is leading to some increase in expenditure on other expenses.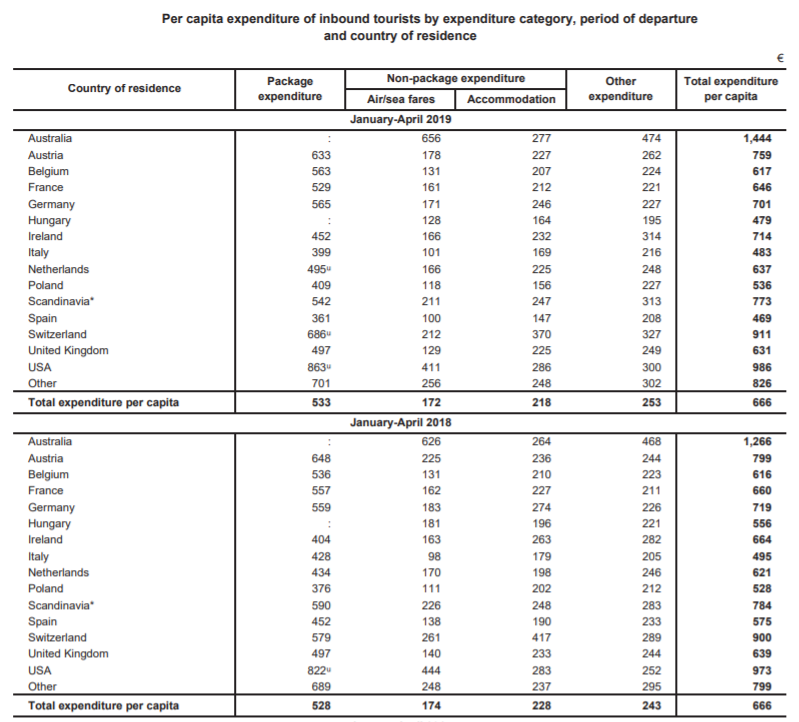 GDP growth remains strong – Q1 2019
Provisional estimates indicate that the Gross Domestic Product (GDP) for the first quarter of 2019 amounted to €3,092 million, an increase of €213.8 million or 7.4% when compared to the corresponding period last year. In volume terms, GDP went up by 4.9%.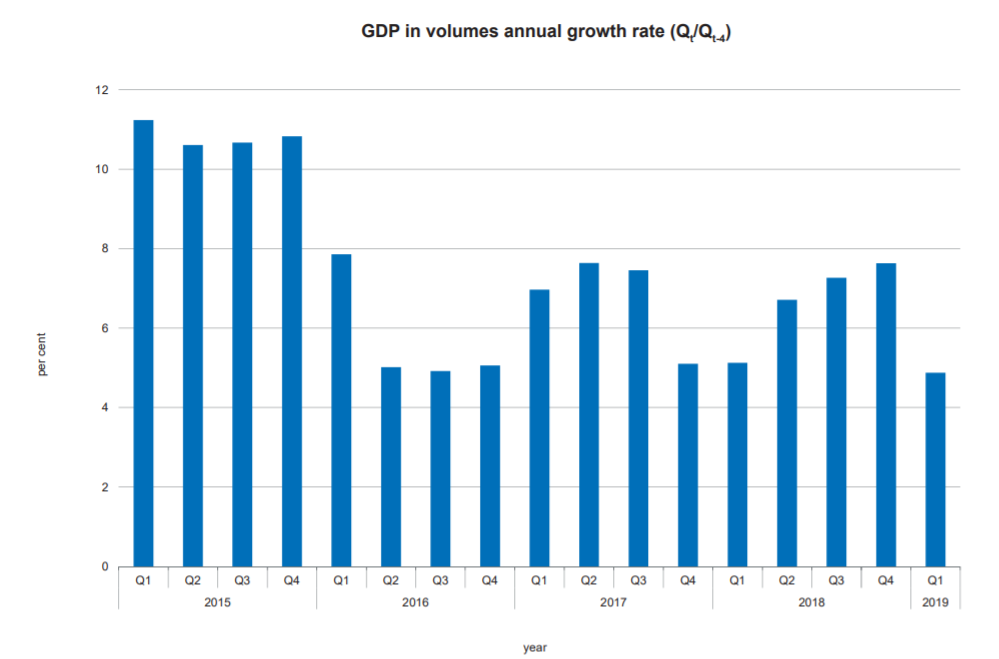 Using the production approach, during the first quarter of 2019, Gross Value Added (GVA) increased by €186.7 million when compared to the same quarter last year. This increase was mainly generated by professional, scientific and technical activities administrative and support service activities which increased by €42.9 million or 11.6%; Arts, entertainment and recreation, repair of household goods and other services which increased by €35.7 million or 9%; Public administration and defence, compulsory social security, education, human health and social work activities which increased by €29.1 million or 6.4%; and Wholesale are retail trade, transportation and storage, accommodation and food service which increased by €24.5 million or 5%.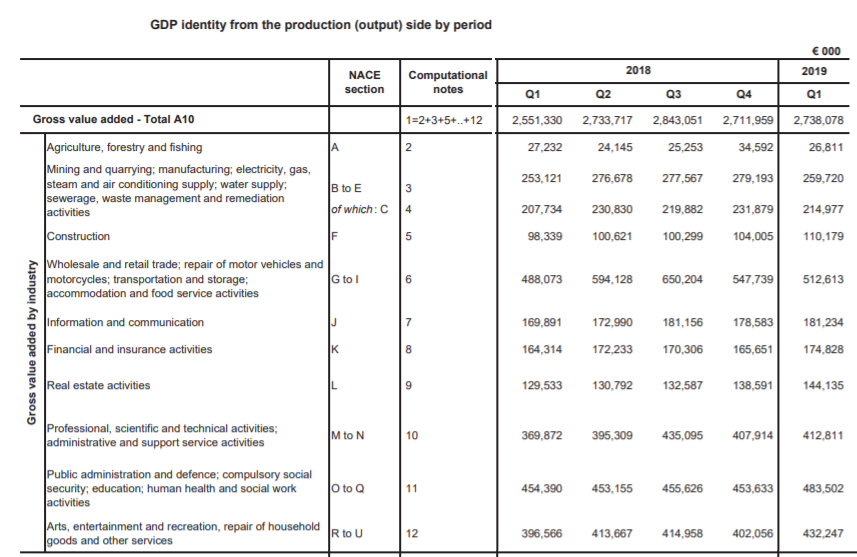 During the first four months of this year, the trade deficit widened by €606.7 million when compared to the corresponding period of 2018, reaching €1,515.4 million. Imports and exports increased by €613.7 million and €7.1 million.
Higher imports were mainly in machinery and transport equipment (€754.9 million). The main increase in exports was registered in miscellaneous manufactured articles (€42.1 million), partly outweighed by a decrease in machinery and transport equipment (€26.9 million).
There was a decrease of €218.5 million in imports from euro area countries when compared to the same period in 2018. Main increases and decreases in imports were respectively registered from the United Kingdom (€594.4 million) and Italy (€79.3 million). With respect to exports, the main increase was directed to the United States of America (€8.0 million), whereas Italy (€25.1 million) registered the highest decrease.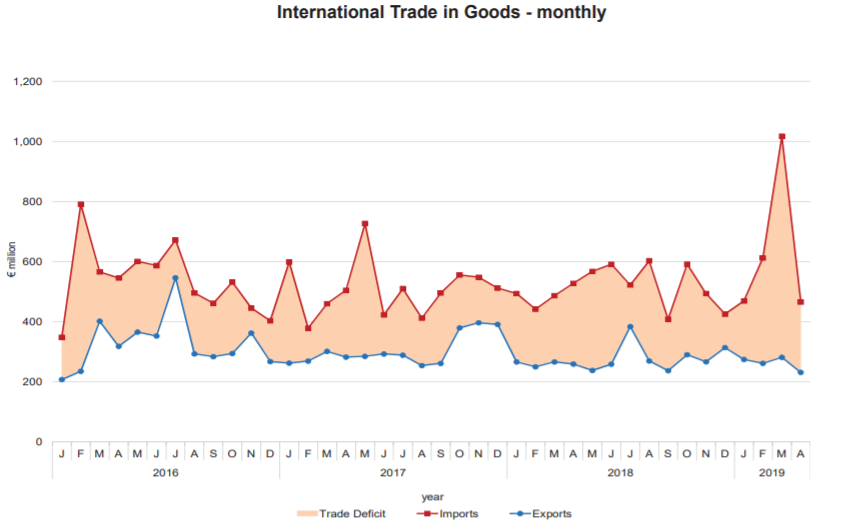 Malta's Latest Economic & Financial News
The Malta International Airport advised that in May 2019, more than 670,000 passengers shuttled between Malta International Airport and one of the destinations connected to the air terminal. This translates into a growth of 4.8% in passenger traffic on the same month last year. This increase in passenger movements was observed in line with a 4.2% increase in aircraft movements stemming from a summer schedule offering improved connectivity. While seat capacity grew by 5.3%, airlines operating from Malta International Airport were successful in maintaining a healthy seat load factor (SLF) of 80.2% for the month of May.
The top contributors to passenger traffic through Malta International Airport were the United Kingdom (+1.1%), Italy (+4.1%), Germany (+0.3 %), France (+4.3 %) and Spain (+15.3 %). The airport's two biggest markets are being served by a total of six new routes this summer, these being Exeter, Cardiff, Perugia, Lamezia, Verona and Genoa. While the first four routes were launched in April, the first flights from Verona and Genoa were welcomed in June 2019.