EMCS Consumer Confidence Index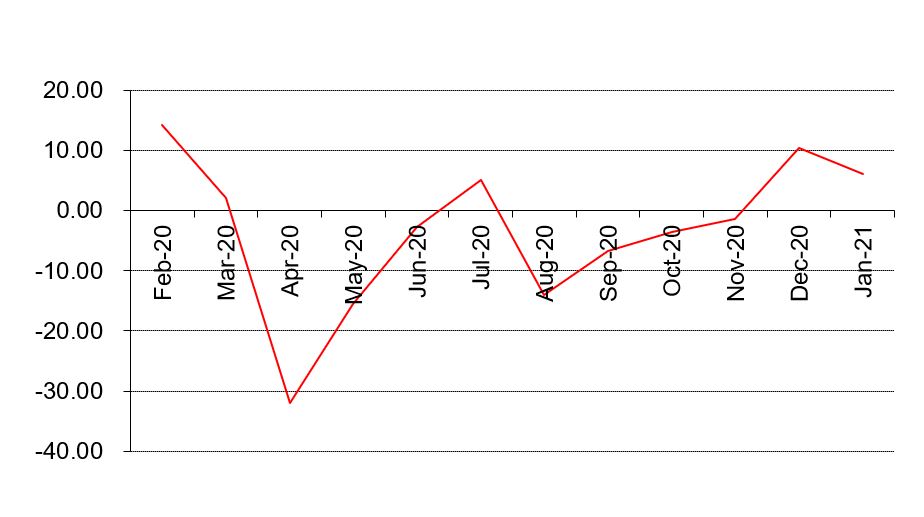 Following an upward spike in December 2020, consumer sentiment started to deteriorate once again in January 2021, meaning that in general, respondents are less optimistic than in the previous month.  However, the Consumer Confidence Index is still resting on the positive territory.  This is based on research conducted by EMCS, on behalf of the European Commission.  This report is based on a monthly telephone survey based on 1000 responses from the general population using a random sample.
The EMCS Consumer Confidence Index reading decreased to 6.1 in January 2021 from 10.4 in December 2020.  In December, Malta started administering the vaccine, which may have provided relief and hope to some residents, holidays were approaching and in general people were in better spirits than in the past months.
On the other hand, the decrease in index in January 2021 may be due to the fact that Malta has registered a peak number of cases in the first weeks after the New Year festivities, people are back to their home-bound routines, which in turn may have lead consumers to have less good confidence in general.
Other key findings of the survey were:
The fall in consumer sentiment in January 2021 was driven mainly by households' more downbeat expectations of the general economic situation over the following 12 months, which fell eight points from that in December 2020.
When asked about their financial situation in the next twelve months, though still positive, their expectations worsened when compared to December 2020.
In January 2021, more respondents were negative in terms of their expectations for jobs and work opportunities.
When asked about their likelihood to spend money on major purchases such as cars or new houses, the respondents in general were more negative than in the past months.
Nonetheless, in general respondents seemed to be willing to spend more on home improvements such as furniture and appliances, when compared to December.
Malta's confidence index, which stood at 6.1 in January 2021, is way above the Euro Area (-15.5) and EU (-16.5).  The averages of Euro Area and EU are -11.0 and -10.6 respectively.
It is important to point out that the survey requests the respondents' perception of the current situation.  However, the actual situation may differ from this perception.
For further information on the consumer sentiment survey, kindly email info@emcs.com.mt or phone +356 2777 2777.