Webinar – Revitalising SME's through EU Grants and other support measures
July 31, 2020 @ 9:15 am

-

11:30 am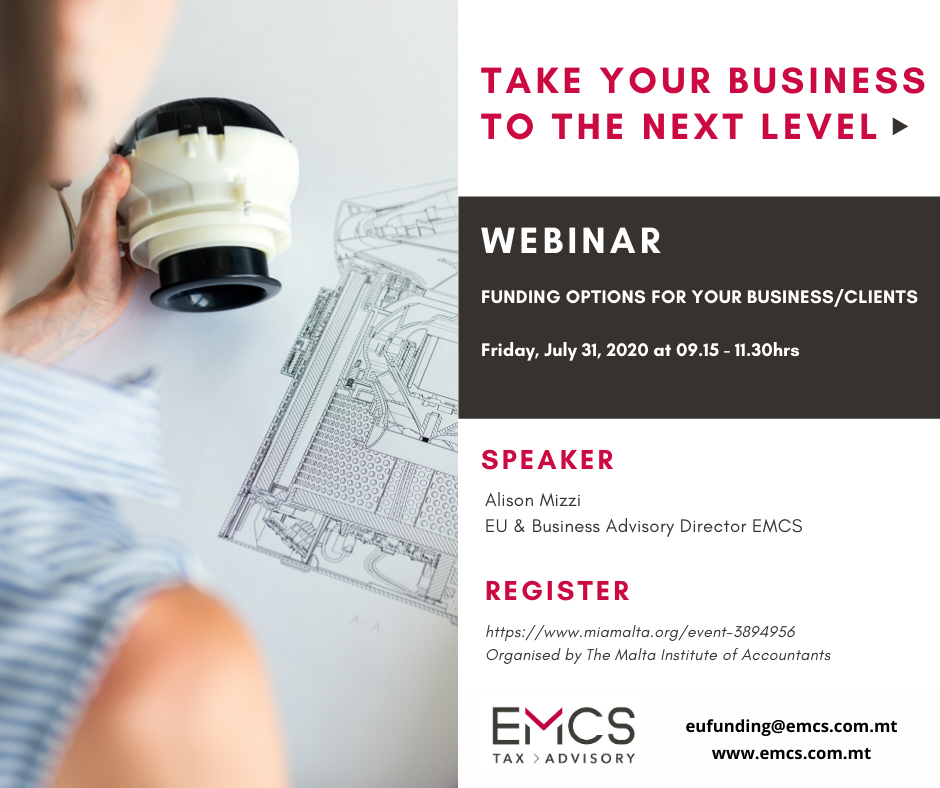 BACKGROUND INFORMATION
Malta is currently benefiting from over 1 Billion Euro in direct EU funding, hailed as one of the largest economic injections in Malta since Independence. Major investments are currently taking place in key areas such as the environment, transport infrastructure, education and the competitiveness of the private sector.
In parallel Government is also offering measures to 'support and re-energise businesses and the Maltese economy'.
This session aims to introduce attendees to these funding options and support measures available to local businesses as they seek to improve their market standing. These are even more relevant today as businesses are navigating through the challenges brought about by the COVID-19 reality.
OBJECTIVES
The objective of this session is to increase awareness amongst MIA members about EU Grant Schemes and other support measures open to SMEs. During this session Ms Mizzi will discuss these, explaining the benefits of each and what businesses would be eligible for such aid.
This session will aim to discuss and answer the following questions:
What are the funding options available for my business/client?
How can I plan my upcoming investment in line with such grants?
How can I use such grants to increase my competitiveness and profitability?
These questions will be explored in the context of various past successful projects funded through such schemes.
TOPICS ON THE AGENDA
EU grant schemes
EU grants for training
Malta Enterprise Support Measures
COVID-19 support measures
TARGET AUDIENCE
This session is relevant for all professionals, entrepreneurs, local business owners and anyone currently interested in taking their venture to the next level and wants to learn about what funding opportunities the EU and local entities are offering.
SPEAKER'S PROFILE
Alison Mizzi is EU & Business Advisory Director at EMCS and holds an MA in European Studies and Bachelor of Commerce (Hons) in Management, both from the University of Malta. Alison joined EMCS in 2015 and has since led the EU Funding consultancy team, serving various clients from the public, private and voluntary sectors. She provides consultancy assistance in relation to the identification of the appropriate funding streams available for local organisations both at the local level as well as at an EU level, including ERDF, ESF, EAFRD, Interreg, Grant Schemes for Enterprises, Training Grants, Horizon 2020, Europe for Citizens, Fusion and Malta Enterprise Support Measures.
---
Registration Time: 09.15
Sessions Time: 09.30 – 11.30
Speaker: Ms Alison Mizzi
Venue: Online Webinar
Participation Fees (The Institute is now accepting payments via Paypal)
MIA Members: €28.00
Non-MIA Members: €50.00
Retired Members: €15.00
Students: €20.00